Accommodation in Bluff
The camp has 17 powered sites, each with a dedicated water supply. Fourteen sites are hard-surfaced, the remainder grass. Good drainage at each site allows for vehicle washing. There's a communal dump station, a coin-fed laundry and free, unlimited WiFi. Good, high-pressure showers are included in the tariff; modern kitchen and dining area.
Amenities
Free unlimited WiFi
On-site parking
Cooking facilities
Laundry facilities
Playground
Permission for pets required







Location
The Bluff Camping Ground is unique and is 1.5km from Land's End, New Zealand; where the journey can both begin and end. Land's End is officially called Stirling Point and is 3000km from the northernmost Cape Reinga. Bluff is the start point and the terminus for the increasingly popular Te Araroa hiking trail and the gateway to Stewart Island, one of the most picturesque offshore destinations in the world.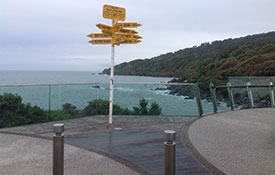 Activities
Bluff has among the finest coastal bush walks in New Zealand. The network embraces the shoreline around the 265m-high Bluff Hill. Tracks go all the way to the summit, where there's a fantastic viewing platform. A visit to Stirling Point is a must, as is the mandatory selfie at the signpost showing the distance and direction to various major cities and global landmarks, including the Equator and the South Pole. Bluff is home to the 12-strong Foveaux Strait oyster fleet. Bluff oysters are renowned for their succulence and flavour. The season is from March until August. The Bluff Maritime Museum is highly recommended. In recent years Bluff has become the base for the increasingly popular shark-cage diving. The camping ground has an excellent children's playground.